The Bradford Map
A Plan of the City of New York from an Actual Survey Made by James Lyne
William Bradford/James Lyne, 1731
Over the years New York had several municipal charters - both Dutch and English - but by the 1720s there were enough "diverse Questions Doubts Opinions Ambiguities Controversies and Debates" that the Common Council pressed King George II for a new one. This new charter, largely drafted by James De Lancey, was presented by Governor John Montgomerie in February 1731 and adopted as law the next year. It was the basis of the municipal government for the next century.1
The Montgomerie Charter, among other things, gave the government an "estate" consisting of the City Hall, the municipal market, docks, wharves and bridges as well as "waste and common land." [essentially everything north of present-day Canal Street]. Of course defining these properties required new surveys and on 15 August 1730 the Common council commissioned the surveyor-general Cadwallader Colden to:
"survey, for the corporation of New York, 400 feet beyond the low water mark, on Hudson's river, from Bestavers Killltie to the limits of the fort, from thence (leaving out, for the use of the fort, all the west side of the street that leads down to Whitehall) eastward along the East river, to the north side of Corlaer's hook."
William Bradford (1663 – 1752) apprenticed as a Quaker printer in London and immigrated to Philadelphia in 1685 where he set up the city's first printshop and paper mill. In 1693 he accepted the position as the first public printer for New York provence. In addition to official work for the crown he also did private commissions including almanacs, books, religious tracts and in 1725 the New-York Gazette, the city's first newspaper.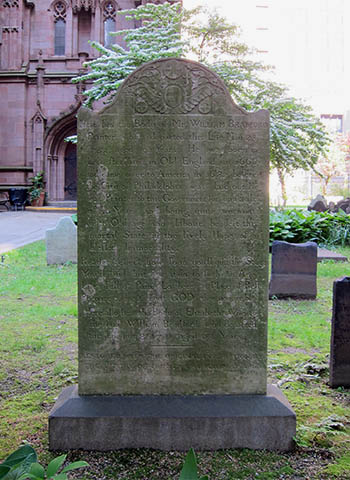 The map, a 20 × 18" copperplate engraving, was likely intended to accompany the Montgomerie charter. It shows the city built up as far as present-day Fulton Street and its' key includes 10 churches and 11 public buildings. Also noted is the Montgomerie reorganization of the city into seven wards. It is the earliest known map printed in the city.3
The map has been reproduced numerous times over the years including this ca.1897 chromolithograph by Henry Dunreath Tyler: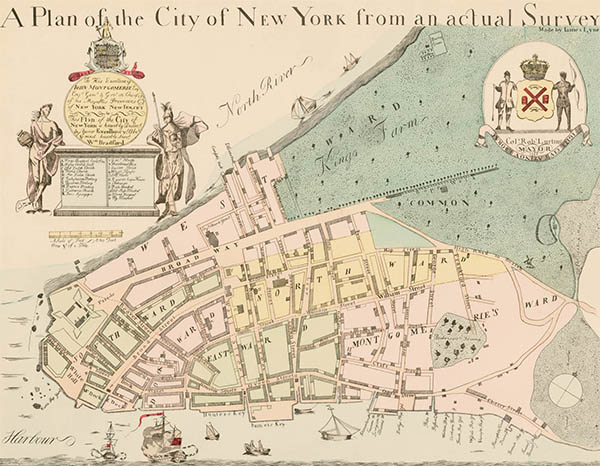 6 July 2015
1. For an analysis of the Charter see: Hartog, Hendrik. Public Property and Private Power: The Corporation of the City of New York. Chapel Hill: University of North Carolina Press, 1983 (WorldCat).
2. For a biography see: Wall, Alexander. William Bradford, Colonial Printer: A Tercentenary Review. Proceedings of the American Antiquarian Society. Oct 1962; 73: 362–384 (online).
3. For more about the map see: Andrews, William. James Lyne's Survey or, as it is More Commonly Known The Bradford Map. New York: Dodd, Mead & Co., 1900 (online).